For the second year running, eviivo are a major sponsor of the Blackpool Illuminations. We love supporting the town and were delighted to accept an invitation to attend the prestigious switch on, this year performed by no less a luminary than Hollywood director Tim Burton.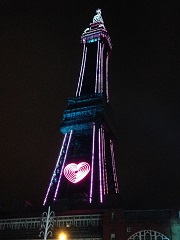 Tim is a big fan of the town and recently filmed his forthcoming film 'Miss Peregrine's Home for Peculiar Children' there. He said he loves the history, the architecture, the people – and the fact it that a rollercoaster runs past his hotel room window!
The switch on is just part of what has become Blackpool's iFest, a whole weekend of entertainment from some of the biggest names in music and comedy from past and present. On the Friday, the enthusiastic crowd was treated to performances from Little Boots, Lawson, Becky Hill and Professor Green. Judging by the volume of screams every time the band's name was mentioned though, many of the 20,000 strong audience was there to see headline band The Vamps, who have sold over 2 million singles and have a huge following. 
Four lucky people received VIP treatment courtesy of eviivo after we ran a competition with the Blackpool Gazette to win tickets.
Between the acts, the Illumination's Creative Director Laurence Llewelyn-Bowen took to the stage to congratulate the town on getting behind the lights, telling the crowd "when everywhere else is going dark, Blackpool is lighting up". That's why the Illuminations are such a draw for the 3.5 million people who visit every year.
As darkness fell, the anticipation mounted. Tim Burton was clearly pleased to get his hand (the other hand had been bizarrely turned into a lobster claw!) on the switch for his Dr Frankenstein moment of turning on the electricity. As the countdown ended, he flicked the switch and the lights on the tower and all along the promenade lit up to the delight of the crowd.
The Illuminations look fantastic this year, with the Welcome Arches at the north and south ends of the display restored and many new tableaux introduced. With the LightPool projection mapping installed at the base of the Blackpool Tower and a new exhibition of contemporary artists working with light at the Grundy Art Gallery, there's never been a better time to visit Blackpool.