We recently surveyed 500 people across the UK and Ireland, to learn about how they use a Hotel or B&B's own website when making online bookings. We all know that the internet has changed the way people book their accommodation and the impact of sites such as TripAdvisor, Expedia and Booking.com has been huge, but what about your own website? Does it actually matter? We think these six stats tell you everything you need to know:
1. You have to have a website: 74% of people are less likely to book a hotel or B&B that doesn't have a website.
  Without a page online you could be missing out on a huge number of guests!
2. It can't just be any website, it has to be good: 68% of people are put off by a poor website.  
Is your website as up to date as it could be? Maybe it's time for a revamp?
3. And it has to take online bookings: 56% of those surveyed would be put off booking a hotel if they had to telephone or email. That rises to over 70% for the under 35's but is as high as 45% for the over 55's!
It doesn't matter who your customers are, a lot of them are online!
4. Very few people don't book online nowadays: 73% of people make all or most of their bookings online while only 5% of people don't book online at all.
When was the last time you received a postal order?
5. Age is just a number: 65% of people over 55 said they make most or all bookings online.
It's not just the younger generation who like to make their bookings at a click of a button.
  6. Location, location, location: Over 70% of people in Greater London, Scotland and the North East are put off by needing to telephone to make a booking. Compared to just 20% in Wales.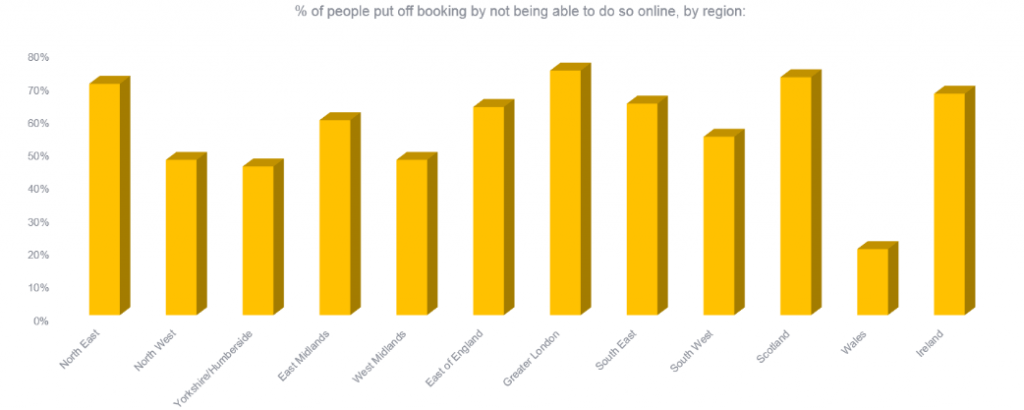 These six big stats show us that not only do your potential guests want to see a quality website from your hotel or B&B; they want to be able to book on it too. And that's not all… Bonus fact: We also discovered courtesy of The Statistic Brain Research Institute that 65% of same day reservations are done online via a smartphone! So you don't just need a website, you need a website that works on desktop computers and smartphones.
Fortunately we can help! With eviivo suite can create a quality website for you that is equipped to take secure bookings straight away. You can select from a range of templates, formats and colours to make your site unique and show off its true potential. Get in touch to find out how we can help you start taking bookings online!