Airbnb Management Software
What does it take to
become the perfect
super host?
Heart, dependability and the best Airbnb management software you can get
How is life as a host?
Whether you own a sleek apartment, a fabulous beach condo, a quirky house or cabins on a farm, ranch or vineyard, you've opened your wonderful place to others.
You saw this as a nice secondary income…but it's relentless.
When you're not getting ready for the next guest, you're responding to reviews
and you live in constant fear of any property damage.
We get it! So we built eviivo Suite™, the perfect all-in-one airbnb management platform designed to give you your life back.

Certified Channel Manager
Who said managing all these platforms was easy?
Enter eviivo Channel Manager™ – Not only does it synchronize your Vacation Rental's Booking calendar across all major Online Travel Agencies (OTAs), but it also updates photos, amenities, house rules & policies, taxes, cleaning fees and more!
Definitely not your run-of-the-mill channel manager!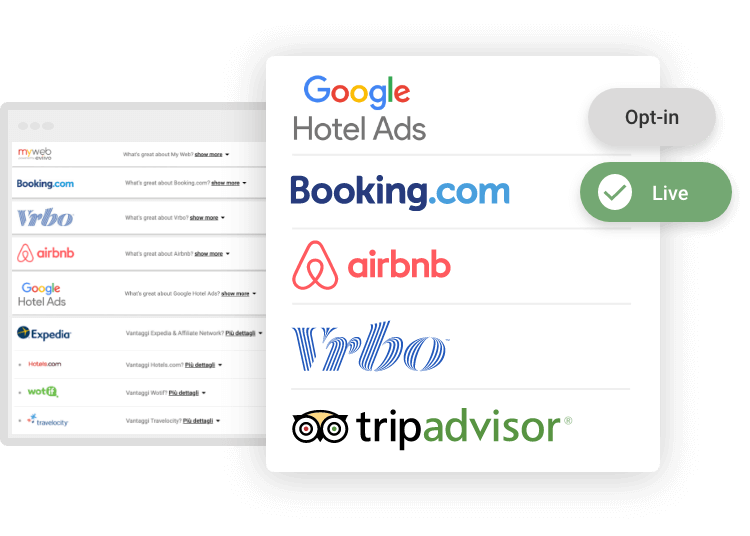 Put an end to constant manual updates
Do you find yourself having to constantly update rates, promos, photos and policies across every OTA? A single update in eviivo Suite updates all OTA travel sites and saves you tons of time and aggravation by eliminating the dreaded overbookings.  Imagine this—everything in one place, literally—from which you can advertise your place to the world and still control everything.
Advertise your place online
Showcase your rental and
increase direct bookings
The most profitable business is repeat business. Let guests book directly with you, at any time, anywhere, anyway. A good website will do the job without taking much of your time.
It's all about the photos!
Play at the big boys' table without spending tons of time or money on web development thanks to eviivo Suite's powerful Booking Engine™ and free Website Builder™
Great photography is what people respond to the most!  So drop your engaging descriptions and captivating pictures in eviivo Suite, pick a color scheme to match your brand and personality, and we'll do the rest.
Promote your place, effortlessly
Post your best guest reviews and create custom pages to share valuable information on the things to do and see in your neighborhood.
With eviivo Promo Manager™ you can create your own special announcements at any time, draw attention to your house rules or enhanced safety measures, and to a variety of special offers and promos, triggered automatically if demand is low.
Start with your guests' experience
Everything starts and ends with a happy guest, the one relationship that matters most to your business.
Anticipate your guests' needs
Boost your guests' interactive engagement regardless of the booking source and make their journey frictionless with eviivo Guest Manager™.
This drag and drop email designer is easy to use and lets you  create fully personalized messages.  Emails are sent to your guests automatically, before their arrival, during their stay and after their departure.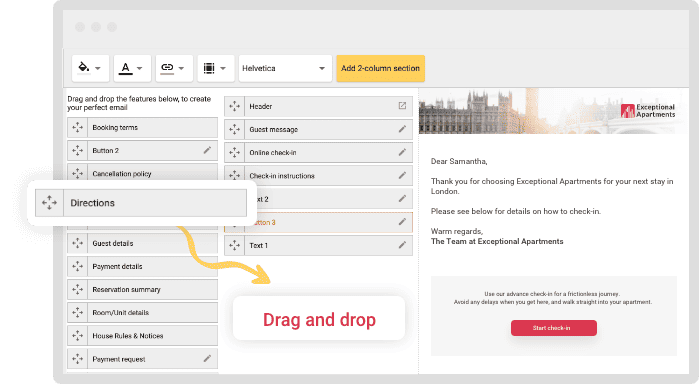 Manage everything remotely
Use stylish branded emails to organize contactless check-in or checkout, collect safety deposits, provide clear directions, detailed house rules, send access codes or other valuable safety information – or just list your local tips and recommendations.
You will be missing out on bookings every day you're not using eviivo
"…eviivo is the best fit for my business and they have increased my Direct Bookings"
Mark, Owner
Guesthouse in Suffolk, UK
Spend your valuable time on more important things in life
"The bookings have just flown in and I no longer have to worry about overbookings plus I save so much time not having to reply to endless emails etc.."
Helen, Property Manager
Rentals in County Durham, UK
You will be missing out on bookings every day you're not using eviivo
"We have been using eviivo for two years…Our bookings have been boosted thanks to their efficient channel manager."
Maurice, Owner Manager
B&B in Haute-Savoie, France
Take back control!
Control your cash flows and cover your risk with the automated collection of cancellation fees and damage deposits
Timely cash flows
Some travel agencies will let you collect payments from the guest directly, others will do it for you.  Either way, you wait.  With Payment Manager™,   eviivo Suite gives you a tool to collect payments or safety deposits automatically directly into your bank account, on your own terms (for bookings that are not pre-collected by the travel agency).
Go contactless
You can also use Payment Manager™ to facilitate contactless check-in or check-out and pre-authorize or collect damage deposits a few days before arrival.
Invalid cards are flagged instantly and guests recontacted automatically*.   And in the event of a no-show, cancellation fees are also collected on the spot!
*secure and fully compliant with GDPR and the PCI-DSS PSD2 card  security standard
Together with eviivo's Property Manager™  – our award-winning booking calendar for Airbnb property owners – that's a lot of software!
This is why we call it a booking suite for Airbnb and Vrbo rentals.  It helps you keep track of everything in one place.
Learn one feature, and you know them all.
Learn how to operate one channel, and you know how to operate all of them.
Less Airbnb software to buy, less software to learn, and less things to do or worry about – so you can save tons of time and money.
Want to find out more?
Sign up for a short demonstration from one of our friendly experts.
They'll get you started, with your first 30 days free!
Book Free Demo
Save even more time
with complementary tools
Browse our list of integrated apps and hardware!