Airbnb Certified Partner Connection
What's so special about the eviivo – Airbnb API connection?
Clocking 99 million unique visitors monthly, Airbnb is the leading way to get your accommodation seen online. eviivo's Channel Manager provides a robust, 2-way certified connection to Airbnb, built on a reliable API (Application Programming Interface).
It goes far deeper than a typical iCal connection, syncing with Airbnb in ways that unlock more benefits for you:
Real-time synchronization to help eliminate overbookings
 Instantly updated rates, availability, policies, photos & content
A simple commission model – no bookings, no costs!
Freedom to opt in and opt out in one click
Hours of manual work saved with automatic onboarding and updates
The ease of managing everything in one place
Don't miss the opportunity to gain fantastic exposure for your B&B, villa, apartment or vacation rental at a low cost. Opt in to Airbnb via eviivo Suite today
What we synchronize with Airbnb
Why connect to Airbnb?
Airbnb has revolutionized the hospitality industry by launching a new-look marketplace where guests can discover and book unique accommodation experiences. With over 1 billion all-time guest arrivals, covering 100,000+ cities and 220+ countries, Airbnb has become a leading source of bookings. Their market spans families, young professionals, and more adventurous audiences. This includes an ever-increasing audience of affluent professionals, who are bored with traditional travel formulae and eager for new accommodation experiences.
To respond to this fast-growing clientele, Airbnb has introduced new services aimed at boutique hotels, quality B&Bs, guest houses, and small independent accommodation providers with personality, thus opening a new trailblazing source of online bookings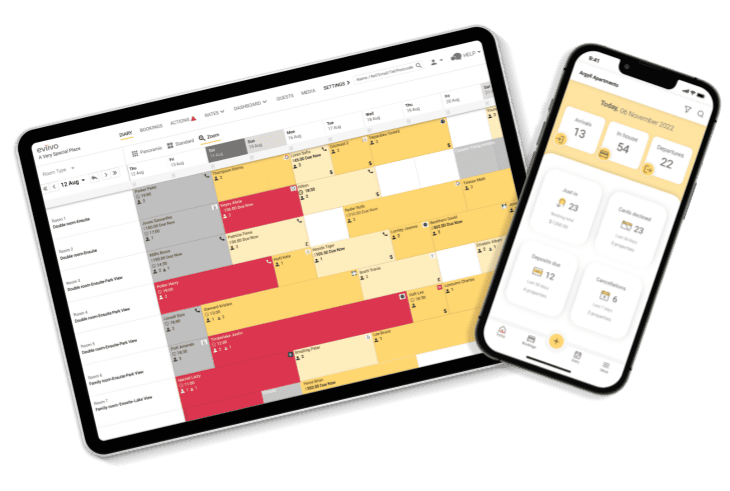 Airbnb Property Management System
Find out more about
eviivo Suite's features
The all-in-one booking software that puts you in control to run things your way. See what eviivo suite has to offer:
eviivo's Channel Manager
Connecting you to all leading Online Travel Agencies
* Disclaimer:  '"Airbnb" is a protected trademark that belongs to Airbnb. The trademark is used merely to describe the channel manager connection provided by eviivo.  eviivo are an independent company are NOT part of Airbnb.  Any information provided about "Airbnb"  was publicly available at the time it was published by eviivo. Please visit the "Airbnb" website using the link provided to check the latest facts and figures.
Want to find out more?
Sign up for a short demonstration from one of our friendly experts.
They'll get you started, with your first 30 days free!
Book Free Demo