Vrbo Certified Partner
What's so special about the eviivo – Vrbo API connection?
Listing on Vrbo can put your accommodation in front of millions of travelers on 50+ websites. But to manage that exposure effortlessly? eviivo's Channel Manager will give you the deeply integrated, totally reliable connection to Vrbo you need:
Real-time synchronization to help eliminate overbookings
Instantly updated rates, availability, policies, photos and content
Simple commission model – no bookings, no costs!
Freedom to opt in and opt out in one click
Hours of manual work saved with automatic onboarding and updates
The ease of managing everything in one place
Don't miss the opportunity to expand the reach of your vacation rental or holiday letting, automatically.Opt in to Vrbo via eviivo Suite today.
What we synchronize with Vrbo
Why connect to Vrbo?
The Vrbo network provides a cost-effective way to market any form of short-term rental, from cottages, villas and chalets, to castles, riads, and yurts. Its mission is to find each family the space they need for their getaway, whether they're looking for a place with plenty of character, exceptional hosts, or simply a little privacy.
Vrbo caters for over 32 million travelers and operates over 50 travel websites including major brands like Abritel, TopRural, Homelidays, FeWo-direkt, VRBO and VacationRentals.com. It offers a rental marketplace of more than 2 million listings in 190 countries and 23 languages. It is part of the Expedia Group.*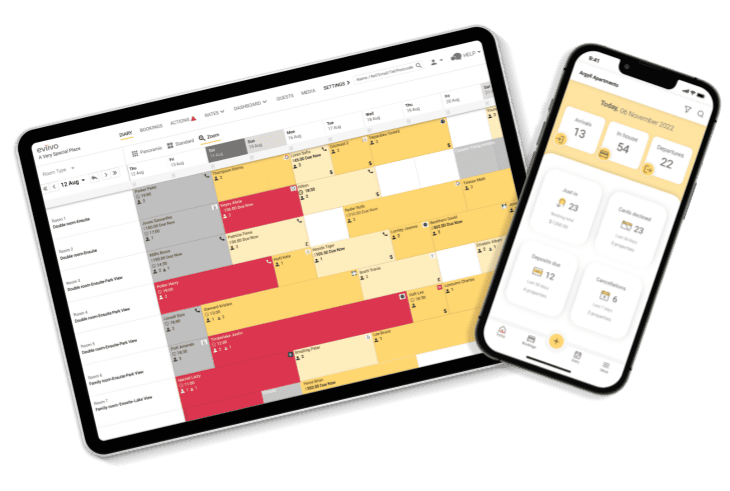 Vrbo Property Management System
Find out more about
eviivo Suite's features
The all-in-one booking software that puts you in control to run things your way. See what eviivo suite has to offer:
eviivo's Channel Manager
Connecting you to all leading Online Travel Agencies
* Disclaimer:  '"Vrbo" is a protected trademark that belongs to Vrbo. The trademark is used merely to describe the channel manager connection provided by eviivo.  eviivo are an independent company are NOT part of Vrbo.  Any information provided about "Vrbo"  was publicly available at the time it was published by eviivo. Please visit the "Vrbo" website to check the latest facts and figures.
Want to find out more?
Sign up for a short demonstration from one of our friendly experts.
They'll get you started, with your first 30 days free!
Book Free Demo