Your Favorite All-In-One
Property Management Platform
Automate. Simplify. Grow.
Perfectly integrated cloud-based software to future-proof your accommodation business
eviivo Suite
Guest Manager - eviivo Concierge
Best Hotel Property Management Platform 2022
Web Manager
Wow your guests with a stunning website…
Maximize your booking potential with captivating images, add-on extras, and custom checkout fields.
Pop feature - web mamanager
Channel Manager
Channels that sing to your tune
... and manage themselves. Easy onboarding, fully automated content updates. Definitely
NOT your run-of-the-mill channel manager!
Cleaning Dashboard
A cleaning dashboard to streamline all changeovers
When clean becomes the thing that gets your business going again!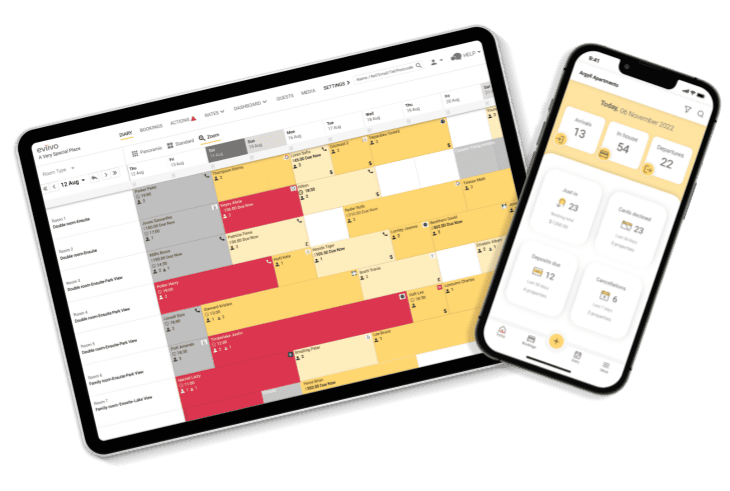 Take your guest experiences to the next level with our award-winning property management system
Enjoy the deepest, most fluid

connections to OTAs

Multi Award Winning Software
Your champion for the independent accommodation sector
When you join eviivo, we welcome you into the collective. Our program puts the spotlight on what makes you so special. If you have a unique story to tell, let's share it with the world.
Why eviivo?
We're so much more than software.
Training
Your success matters. When you come on board we give you free training, and stay with you until you're comfortable and everything's is running smoothly.
Support
You can count on us seven days a week. We offer free support via live chat, web and phone. You can get in touch with just one click.
A Vibrant Community
Become part of eviivo's vibrant global community - be unique, do business your way, and tell your story to the world!
Your Moment in the Press
When you join eviivo Collective, your property's unique story could be shared with the world via free coverage and major accolades.
Expert Knowledge
Our people have spent years in the business, learning best practices from leading brands. We know hospitality and technology inside and out, and we love sharing our knowledge with you.
Open Partnerships
We are part of an integrated ecosystem of related booking technologies & platforms. Always happy to partner to make life easier for you.
You're different,
and so are we…
Rather than bore you with technical jargon or a flashy sales pitch, we thought we'd sing about how we bring a smile to our customers' faces.
Take a minute to play the song, and let us know what you think!
Who is eviivo for?
Anyone with rooms to sell and a story to tell.
eviivo is used by 26,000 independent properties,
each as individual and unique as the people who run them,
from vacation rentals and boutique hotels, to cabins, yurts,
city apartments, beachfront villas and luxury B&Bs.
"…I cannot say any negative word about this product. I am a completely satisfied customer. At 72 I need a lot of support when it comes to software."
Pecco Beaufays
Highland Lake inn
"Donna at eviivo – is an excellent professional! No wonder she is already a superior leader. It clearly shows"
Dean and Mamie
Hope Springs Eternal Bed and Breakfast
THE BEST thing I like about eviivo is the LIVE CHAT INSTANT HELP"
Nick Bright
Vacation Rental Group
Want to find out more?
Sign up for a short demonstration from one of our friendly experts.
They'll get you started, with your first 30 days free!
Book Free Demo