Vacation rental property management software
What does it take
to build a successful
vacation rental portfolio?
Foresight, organisation and the best property
management software in the industry.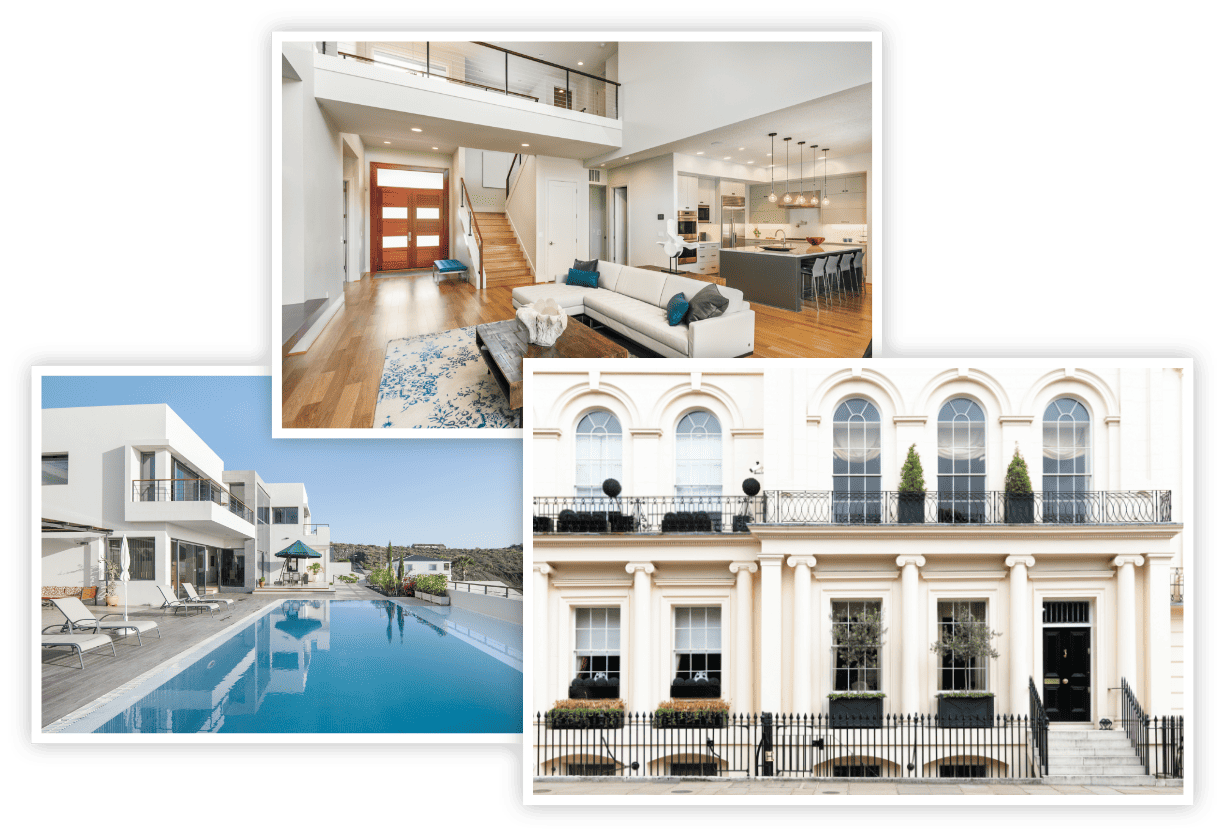 How has business been lately?
Your property portfolio is growing and you're a victim of your own success!
More and more owners want you to manage their property.
Checking guests in and out, cleaning, getting repairs done. It's relentless!
We get it!  And we've got a good idea on how to ease your burden with eviivo Suite™. This robust short term rental property management software was built to help you:
Optimize changeovers:
it's all about automation!
Organising cleaning & repair services are not the most glamorous part of the job! However, being able to do this efficiently is critical. That's why you need a vacation rental property management software to accelerate your success.
Clean sells!
eviivo's fantastic Interactive Cleaning Dashboard™ lets you organise your cleaning and maintenance schedules remotely.   Every cleaner can interact with you instantly via their mobile, and you can manage their shifts automatically or request an emergency intervention at any time.  We've also given you the ability to set automatic "cleaning buffers" to ease things up.
Going contactless pays off
Whether or not you provide a meet & greet service, Guest Manager™ supports contactless check-in or checkout, including the ability to send clear instructions or pictures showing how to access the property, and door or building access codes.
And with Payment Manager™, deposits are secured, and payments are processed automatically, on your own terms.
Anticipate your guests' needs
Cut down the chatter and the noise!  Instead anticipate your guests' needs at every step of the booking journey with branded personalized emails, automated via our unified messaging feature.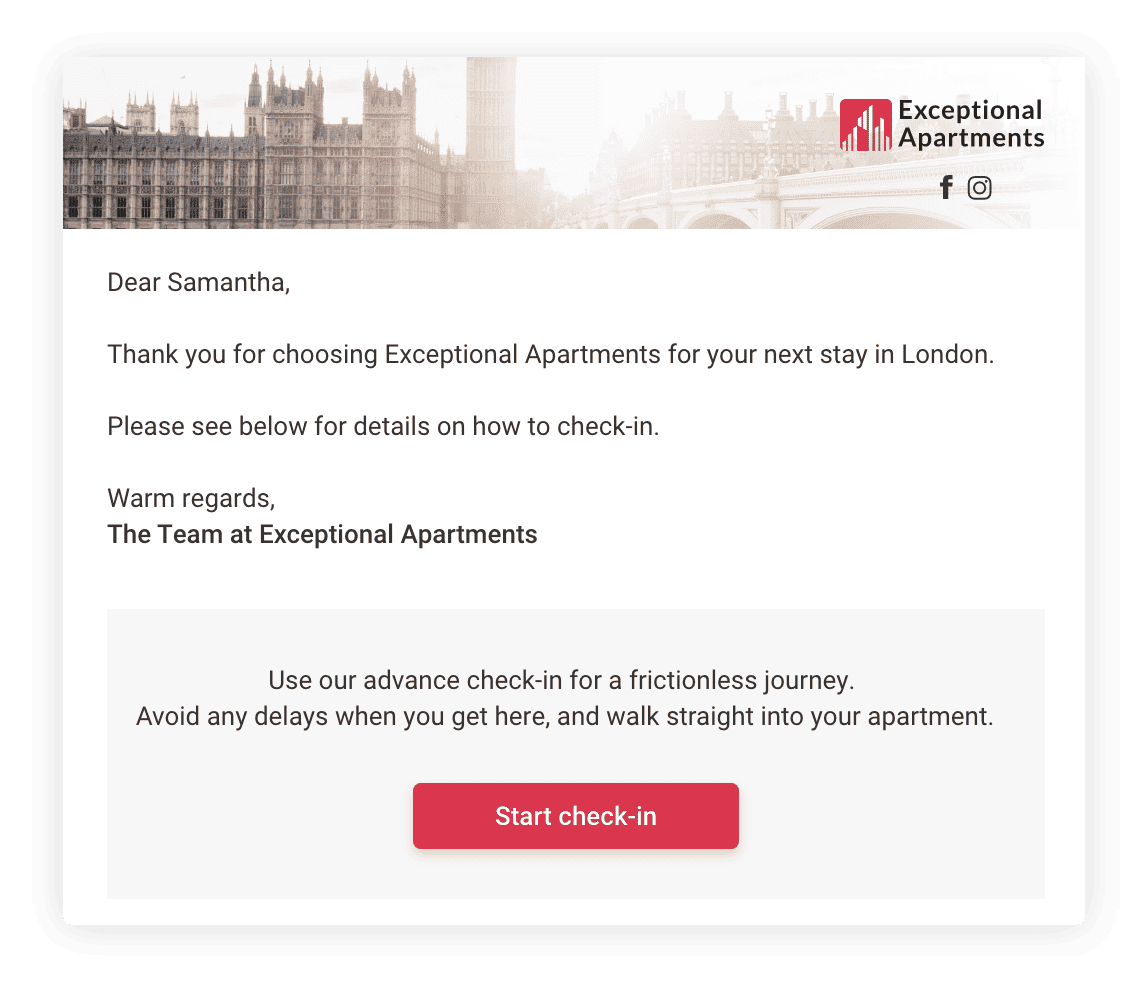 Getting online faster means collecting bookings sooner!
Effective portfolio management
Online Travel Agencies (OTA) are the most cost-effective form of advertising. But onboarding new units manually on every travel site can quickly become a serious drain on your time.
Go global, in a single click
Put an end to repetitive manual entries but stay in the driving seat!    Our fully automated connection to OTAs generates ads and updates pictures, content, amenities, cleaning fees, deposits, taxes, policies and house rules on all booking sites.  The lot!
Yes, with eviivo's Certified Channel Manager™  your vacation rental booking calendar is perfectly synchronised with Airbnb, Vrbo, TripAdvisor Rentals, Booking.com, Expedia, Google Hotel Ads and of course, your own website.  So, time to kiss good bye to overbookings.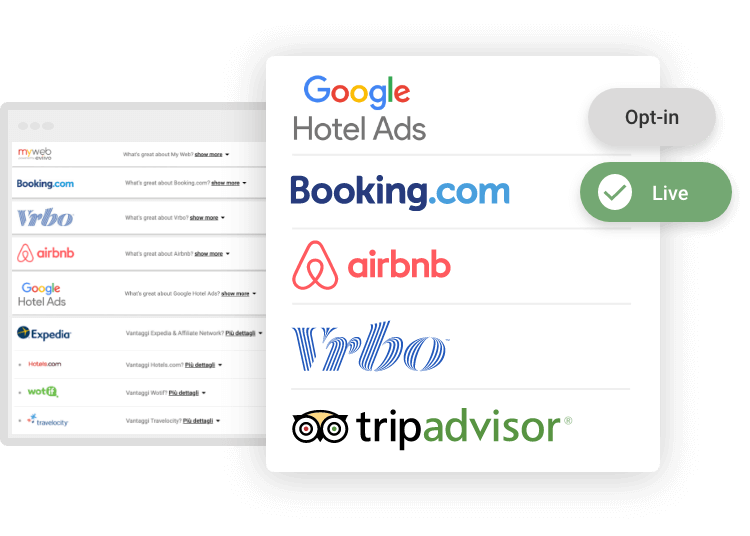 Bring new units on board, faster
You can add units in seconds, and save even more time by cloning your "model" vacation rental unit. Bingo! any new property barely requires any touch up before going live! The entire configuration is replicated automatically and ready to be on-boarded on all OTAs.
Spend your time with guests, owners or on the acquisition of new properties … rather than auditing channel mapping errors or updating extranets !
Look after all your stakeholders
If you manage vacation rentals on behalf of their owners,
you need to service their needs too.
Trust brings growth
Allowing owners to reserve their own property online, and letting them see, at a glance, how well their property is doing, drives increased confidence and satisfaction.
With eviivo suite, you can manage access rights quickly and safely, by teams or property sets, including 3rd parties like cleaners, agency staff or property owners.  And don't worry, access to sensitive data is fully protected!
Control your running costs
Use Owner Manager™ to track your running costs and decide which to pass on, or mark up.  You can do this booking by booking, for each property – including commissions, card fees, cleaning services, repair costs, management fees  and more.
A great solution for all types of vacation rental
"We haven't looked back since we started using eviivo. They have helped us boost our bookings and fill our glamping pods with guests, and are a great fit for our business."
Ben, Owner
Glamping in North Yorkshire, UK
Top Notch Support
"I stick with Eviivo because it has everything I need to manage my serviced accommodation business (aside from dynamic pricing)."
Jon, Manager
Serviced Accommodation, GB
eviivo is widely recommended for self-catering businesses
"We were recommended eviivo for our self-catering business, they have really helped us save time and get bookings, now guests visit us from all over the world"
Rachel, Manager
Holiday Cottages, in Lancashire, UK
You will be missing out on bookings every day you're not using eviivo
"Using eviivo's channel manager has helped us fill our lodges with guest bookings and expand our business. They were therefore naturally who we turned to for using at our new apartments development."
James, Owner
Lodges in Northumberland, UK
Spend your valuable time on more important things in life
"We have been with eviivo for over 11 years now and we find it works great for our business. The diary is really easy to use, and our bookings are going very well. Their additional help and support via webinars has been brilliant, especially over the recent year."
Christine, Owner
Cottages, in Northumberland, UK
Excellent channel manager & more
"I have had my 10 holiday rentals on Eviivo for two years. Excellent system. I did a thorough research before choosing Eviivo and I have no complaints."
Tomi, Owner
Holiday Rentals, Many Locations
Very supportive & professional
"very supportive and professional company who proactively contacts you and provides help and advice to grow our holiday cottage business . Thanks"
Colin, Owner Manager
Holiday Cottages, GB
Build a strong brand
with a stunning website
If you plan to grow your portfolio it is essential that you showcase your Vacation Rental Portfolio and your brand online.
It's all about the photos really!
Great photos are what people respond to the most.   Use eviivo's multi-property Website & Booking Engine™ to showcase your properties with large captivating photos or even 3D Tours.
Let all relevant data flow to your site with our fully integrated Vacation Rental WordPress plug-in & themes.  Pick your colour palette, update your logo and pictures, sit back and watch the bookings come in.
Promote, and promote!
Build customer loyalty with special offers, and create your own special announcements with Promo Manager™. For example, draw attention to your enhanced safety measures or to a wide range of  promos, automatically triggered by dynamic pricing rules linked to demand and inventory levels.
Make it personal!
Finally, your brand is not just about your website. Customise all guest communications with Guest Manager™ : from your confirmation emails to your invoices, your registration card, directions or access codes, or simply a lovely thank you or welcome note! All can be personalised, automated and branded.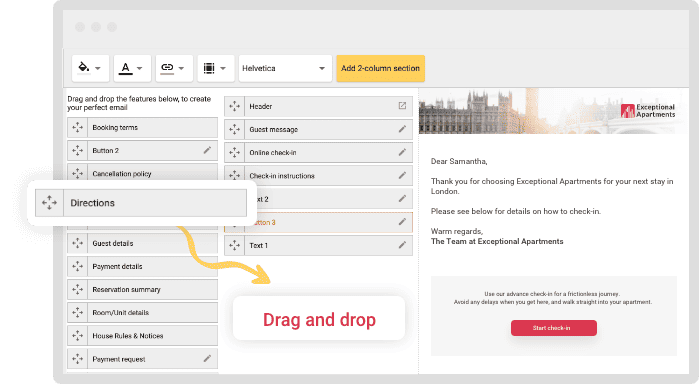 Together with eviivo's Property Manager™ – our award-winning booking calendar for PMCs – that's a lot of software!
But it comes as a simple, affordable all-in-one package. This is why we call it a booking software for vacation rental property management companies.
Learn one feature, and you know them all.  Learn how to operate one channel, and you know how to operate all of them.  Less software to buy, less software to learn, and less things to do or worry about.
And you save tons of time and money.
Want to find out more?
Sign up for a short demonstration from one of our friendly experts.
They'll get you started, with your first 30 days free!
Book Free Demo