Easy to read graphics, exception reporting and an accurate snapshot of your business.
Performance Manager provides key performance indicators, easy to read graphics, a snapshot showing clearly how well you're doing, and a vast array of vacation rental, B&B & hotel reports which you can easily download as an Excel or CSV file or in other desktop formats.
It's easy to get lost in the detail, and no longer see the forest from the tree. Performance Manager is fun to use and will change the way you look at your business.
Performance Manager Key Features
Get a real-time insight of your properties performance with Performance Manager.
Key Performance Indicators
Monitor where guests come from, how full you are, your average price and average length of stay – over any period of your choice.
Effective changeovers
Coordinate and assign cleaning and maintenance tasks to your teams, and share timely new instructions via eviivo's mobile app.
Easy-to-read graphics & snapshots
Quickly glance through insightful graphics and snapshots to review your daily performance, changes in demand, channel mix, RevPAR, ADR and more.
Vast Array Of Reports
Generate cleaning reports, performance reports, cash flow and payment reports, guest reports and more. Print or download them to Excel or CSV.
Exception Management
Use the action tab to manage anything that requires immediate attention:  Card declines, deposits due, no-shows, special requests etc.
Quick Views
Sort bookings by arrival, departure, or book date.  See who's in-house, due to arrive or check out, and check your in-tray for recently arrived bookings.
Enjoy the deepest, most fluid

connections to OTAs

eviivo is a fantastic company to help hoteliers get their rooms sold, and manage the administration of managing those bookings and customers.
Dan
Lancashire
It just keeps everything in one piece of software. I can track trends for the rates of the rooms, I can do all my emails to the guests, I can prompt them for booking a restaurant, where they should park. It saves me a lot of time.
Andy
Suffolk
It's a very easy dashboard to operate. All our staff can quite easily use it and access it, and it's very simple to use and it's been very good for us.
Janine Hunter
Surrey
Why eviivo?
We're so much more than software.
Training
Your success matters. When you come on board we give you free training, and stay with you until you're comfortable and everything's running smoothly.
Support
You can count on us seven days a week. We offer free support via live chat, the web and by phone. You can get in touch with just one click.
A Vibrant Community
Become part of eviivo's vibrant global community - be unique, do business your way, and tell your story to the world!
Your Moment in the Press
When you join eviivo Collective, your property's unique story could be shared with the world via free coverage and major accolades.
Expert Knowledge
Our people have spent years in the business, learning best practices from leading brands. We know hospitality and technology inside and out, and we love sharing our knowledge with you.
Open Partnerships
We are part of an integrated ecosystem of related booking technologies & platforms. Always happy to partner to make life easier for you.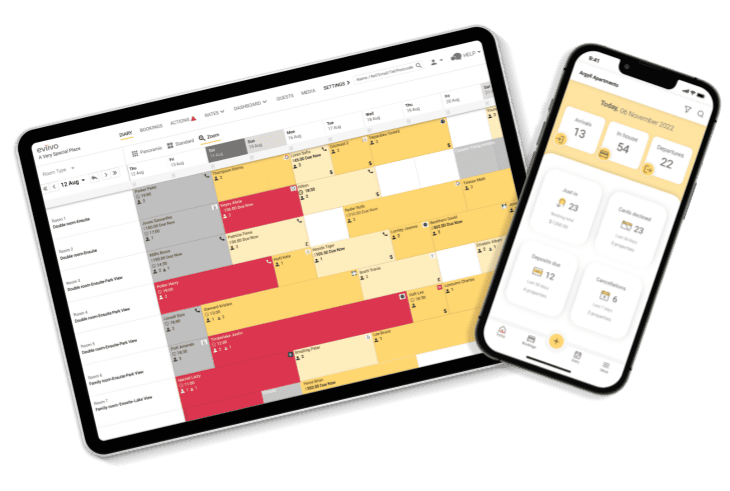 Take your guest experiences to the next level with our award-winning property management system
Want to find out more?
Sign up for a short demonstration from one of our friendly experts.
They'll get you started, with your first 30 days free!
Book Free Demo