Looking after all your stakeholders.
If you run a property portfolio, managing property owners is as vital as managing guests. Owner Manager keeps you a step ahead by automatically calculating and keeping track of fees and charges.
These are then included in a detailed statement that you can pass on to the owner, ensuring you get fairly rewarded for your services while maintaining a good relationship with all stakeholders.
And don't forget about your teams! Coordinate and assign housekeeping or maintenance tasks, and share timely new instructions, via the Cleaning Dashboard.
Owner Manager Key Features
The ultimate owner managing solution
Owner Charges & Deductions
Charge property owners for any fees, repairs and expenses they're responsible of and deduct any credit owed to them.
Detailed Statement
It takes only one click to generate a detailed statement that includes the charges and booking fees that you wish to pass on to the owner.
Automated Processing
Save time by automating per-booking charges, such as cleaning fees. The same applies for re-occurring deductions.
Convenient Templates
Add charges and deductions either on an ad-hoc basis, or by creating a template to reuse at your convenience.
Activity Reports
At-a-glance reporting of all charges, deductions, and booking fees for a given accommodation unit over a set period.
Automatic VAT Calculation
Add tax or VAT rates to the booking fees that you cross charge to owners with the click of a button.
Enjoy the deepest, most fluid

connections to OTAs

Why eviivo?
We're so much more than software.
Training
Your success matters. When you come on board we give you free training, and stay with you until you're comfortable and everything's running smoothly.
Support
You can count on us seven days a week. We offer free support via live chat, the web and by phone. You can get in touch with just one click.
A Vibrant Community
Become part of eviivo's vibrant global community - be unique, do business your way, and tell your story to the world!
Your Moment in the Press
When you join eviivo Collective, your property's unique story could be shared with the world via free coverage and major accolades.
Expert Knowledge
Our people have spent years in the business, learning best practices from leading brands. We know hospitality and technology inside and out, and we love sharing our knowledge with you.
Open Partnerships
We are part of an integrated ecosystem of related booking technologies & platforms. Always happy to partner to make life easier for you.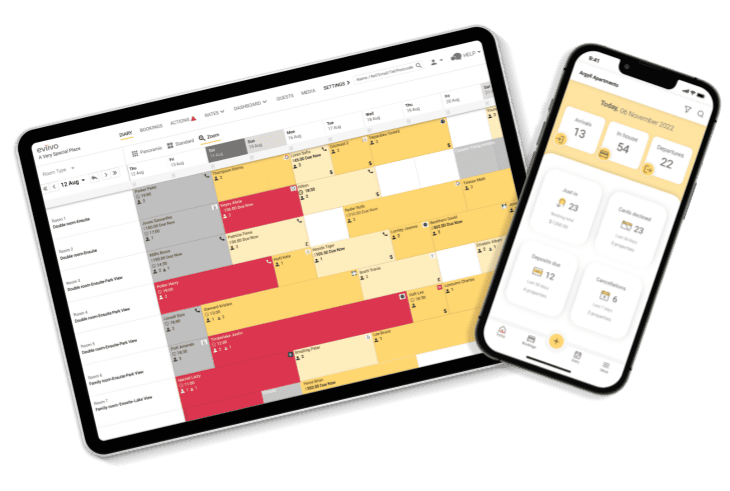 Take your guest experiences to the next level with our award-winning property management system
Want to find out more?
Sign up for a short demonstration from one of our friendly experts.
They'll get you started, with your first 30 days free!
Book Free Demo