Complete Control.
Manage guests, bookings, staff and just about everything else with our vacation rental, B&B and hotel PMS system (property management system) including our best-in-class booking diary.
When you look at hotel property management systems, make sure it is able to help with the bits that are no fun! Invoicing, taxes trust accounting, payments or the need to spend your life glued to extranets! eviivo Suite™ pms system knows how to deal with these chores. Enough to bring a smile to your face!
Property Manager
Key Features
Award-winning booking calendar & PMS system for hotels, B&Bs and vacation rentals
Easy To Use
Check all your bookings at a glance. Add, cancel or modify bookings in seconds.
Efficient
Enjoy our drag and drop, quick book and quick search features.
Powerful & Versatile
Supports over 12,000 booking scenarios.
Anytime, Anywhere, Any Device
Always on, works on desktop, mobile and tablet, including a neat mobile app to run your business on the go.
Integrated Travel Agency Connections
Easily identify OTA bookings by source, with deep 2-way synchronisation of rates, availability, policies, notes and content.
No Overbookings
Regardless of source, online bookings just fly into the diary.  No paperwork, no manual input, no overbookings.
Easy Guest Communications
Send automatic guest confirmations with personalised messages, and receive alerts on your mobile.
Frictionless Check-In & Check-Out
Streamline your check-in & check -out process, print registration forms and invoices with just one click.
Quick & Easy Price Changes
Easily apply tactical or strategic price changes, add extras or set late availability or early bird promos.
Quick Views
Check arrivals, departures, incoming bookings and special requests, at a glance.
Exception Management
Spot deposits due, no show fees, or expired cards at a glance, and process in one-click to improve cash flow.
Instant Card Management
Automatic card validation & retrieval, in full Level-1 PCI compliance. Report bad cards to OTAs in a click.
See what our customers think of Property Manager
Enjoy the deepest, most fluid

connections to OTAs

Why eviivo?
We're so much more than software.
Training
Your success matters. When you come on board we give you free training, and stay with you until you're comfortable and everything's running smoothly.
Support
You can count on us seven days a week. We offer free support via live chat, the web and by phone. You can get in touch with just one click.
A Vibrant Community
Become part of eviivo's vibrant global community - be unique, do business your way, and tell your story to the world!
Your Moment in the Press
When you join eviivo Collective, your property's unique story could be shared with the world via free coverage and major accolades.
Expert Knowledge
Our people have spent years in the business, learning best practices from leading brands. We know hospitality and technology inside and out, and we love sharing our knowledge with you.
Open Partnerships
We are part of an integrated ecosystem of related booking technologies & platforms. Always happy to partner to make life easier for you.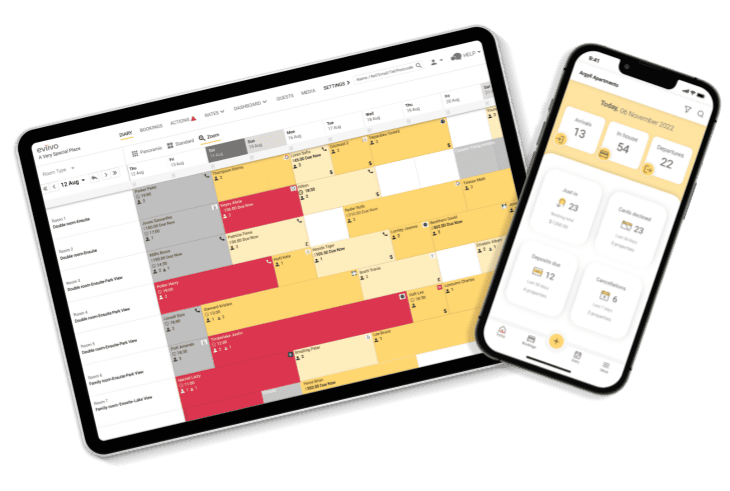 Take your guest experiences to the next level with our award-winning property management system
Want to find out more?
Sign up for a short demonstration from one of our friendly experts.
They'll get you started, with your first 30 days free!
Book Free Demo