Hotel Booking System
Rethink the way you
manage your guests,
bookings and OTAs
Work smarter and faster. Save hours of admin every week with eviivo Suite™
Discover how eviivo Suite™ hotel management software
helps you reimagine hospitality
You've been running your hotel for years and seen the industry transform with the rise of Social Media and all its razzmatazz, and yet your hotel booking system & PMS has stood still.  How do you keep pace, innovate and attract a new generation of guests?
Time to forget the status quo.
eviivo Suite™ is designed through and through to help you acquire more guests.
Cut down IT costs to… near zero
Save time and money with an all-in-one booking suite (PMS, Channel Manager, Booking Engine & Payments) that requires no installation and updates itself… Say goodbye to big IT budgets!
Keep control over your business
Run business on you own terms and don't let anyone else control your policies and cash flows. Out with card declines and endless overbookings – eviivo Suite™ is perfectly synchronised.
Increase direct bookings
Nurture your guests and build strong relationships with special offers and personalised communications to capture both new and repeat business.
More than 20,000 properties already connected
Why manage your bookings with an old accounting system?
When front office systems become the new back-office!
eviivo SuiteTM puts sales, guests and channels centre-stage so that you and your team can deliver the highest level of service in the shortest amount of time.
Gain time with hotel software automation at every level: your channel manager, booking engine and PMS act as one – so, forget manual double entries and overbookings!
Look closely – are you really getting your business from 600 channels ?  Cut down the noise, focus on top performers, and make sure everything else is easy and in one place!
You're an expert in hospitality – and so you should be!  Not a rocket scientist having to deal with APIs and Channel Mapping diagnostics!
Times are changing! – our cloud-based solution runs on its own and gets updated with new features up to 10 times a year, at no additional cost.
"You are doing such a sterling job! Really! eviivo is such an intelligent PMS! This is coming from the seasoned hotelier who has seen a lot!"
Peter, Hotel Manager
Hotel in Surrey, England
You will be missing out on bookings every day you're not using eviivo
"We have been using eviivo for two years...Our bookings have been boosted thanks to their efficient channel manager."
Maurice, Owner Manager
B&B in Haute-Savoie, France
Spend your valuable time on more important things in life
"The bookings have just flown in and I no longer have to worry about overbookings plus I save so much time not having to reply to endless emails etc.."
Helen, Property Manager
Rentals in County Durham, UK
You will be missing out on bookings every day you're not using eviivo
"...eviivo is the best fit for my business and they have increased my Direct Bookings"
Mark, Owner
Guesthouse in Suffolk, UK
Spend your valuable time on more important things in life
"...The eviivo service is always friendly and very helpful. You can even reach them simply via live chat..."
Fleig Family
Hotel Manager
Advertise without compromise
Online Travel Agencies are the most cost-effective form of advertisement. But keeping control can be a real drain on your time and resources.
eviivo's Channel Manager synchronises with your new eviivo hotel booking system across Booking.com, Expedia, Airbnb, Google Hotel Ads, Agoda, TripAdvisor, and obviously, with your current website or optionally an eviivo built website.
With a higher API coverage than most vendors, kiss goodbye to overbookings and disappointed guests, as eviivo channel manager synchronises rates and availability, photos, amenities, payments, tax, policies and house rules.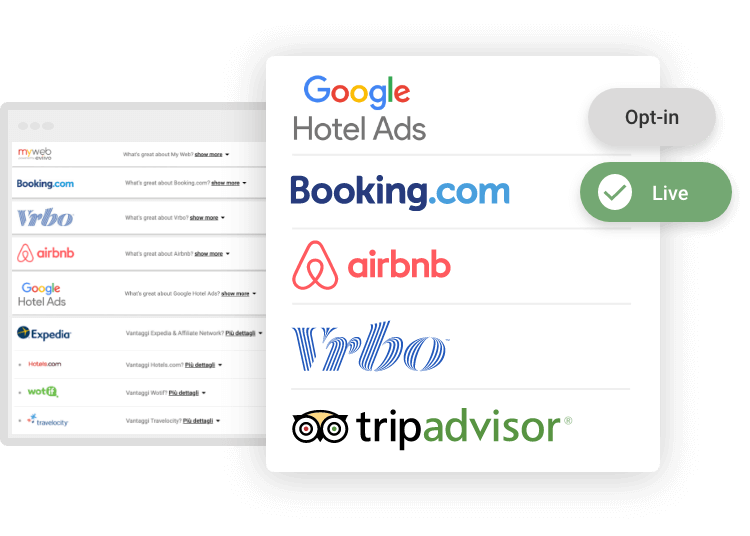 Shift the focus to your own brand
Guests are really keen to contact their chosen hotel directly.
Build a website around your brand with eviivo's Website Builder™. We both know it's all about the photos!  Select your best shots, pick a colour theme, and a web template – et voila! you're live with a stunning website!
Draw attention to special offers or announcements with Promo Manager™.
Use Guest Manager™ to brand, style and automate all your guests communications: emails, invoices, check-in cards, timely reminders and thoughtful messages.
Control your Hotel's Cash Flows
Prices, taxes and payments … argh, not the most glamorous part of running a Boutique Hotel! But critical to a healthy business.
Streamline front office processes with automated payment collections and full card verification & preauthorization, regardless of the booking source.
Get paid directly into your bank account
Payment ManagerTM is so smart that it will automatically sort out any card decline with OTAs and guests.
Enable contactless check-in and checkout for a smooth and socially distanced guest experience.
Keep track of everything with Performance ManagerTM including full commission reconciliations and daily cash reports.
Together with eviivo's Property Manager™ – our award-winning PMS – that's a lot of hotel software!
This is why we call it a booking suite for Hotels, Resorts and Motels.
Learn one feature, and you know them all. Learn how to operate one channel, and you know how to operate all of them. Less hospitality software to buy, less hospitality software to learn, and less things to do or worry about.
And you save tons of time and money.
eviivo Suite™ – the simple way to manage your front-office and win big!
eviivo Suite offers all the tools you need to get and manage bookings and guests, to make you more money whilst saving you time. If you want to automate even more of the processes at you hotel we have selected some of the very best-in-class providers to partner with, in order to offer you even more functionality. Be that further automation of your pricing, automated key-box technology, or EPOS, our selected partners seamlessly integrate with eviivo Suite to offer this.
Want to find out more?
Sign up for a short demonstration from one of our friendly experts.
They'll get you started, with your first 30 days free!
Book Free Demo
Save even more time
with complementary tools
With our list of integrated apps and hardware!