It's back to the office in a cold and grey London today after a great couple of days in sunny Blackpool last week. The eviivo team were out in force in one of our favourite destinations to support our partners Stay Blackpool at their annual trade event. Alongside around 70 trade exhibitors, eviivo were hosting the eviivo lounge where B&B owners could learn how to bring in more bookings with three fun and informative presentations.
For the first, on how to boost your kerb appeal, we were very pleased to be joined by Alex Fisher, editor of Coast Magazine, a high quality, aspirational monthly magazine championing life beside the sea. Alex had stayed the night at The Redstone, one of Blackpool's growing number of 5 star B&Bs which use the eviivo all-in-one booking suite, and was very impressed with what was on offer. Other sessions covered hints and tips on how to boost your bookings and on making technology work for you. All were very well attended and well received. Afterwards property owners were invited to stay behind for drinks and nibbles and to talk more to the team about eviivo and our support for Blackpool businesses.
The following day we hosted one to one training sessions for customers who wanted to know more about the wealth of new features that we've introduced recently. Again these were well received, with customers leaving their sessions full of ideas and enthusiasm.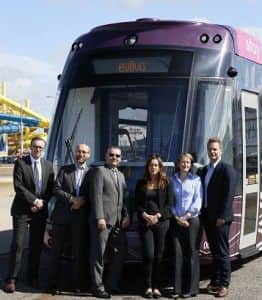 We even managed to fit in a photo call with the Blackpool Gazette and the eviivo trams! eviivo have co-sponsored two of the trams which run along the Blackpool seafront, promoting the Stay Blackpool website and encouraging visitors to book their accommodation online, commission free, via eviivo. The great looking trams will be running for a year – if you are in the town, do let us know if you spot them. And if you have a local tourism organisation  which would like to work with us, please get in touch. We'd love to help.
It wasn't just eviivo in town either. Other people love the place too, including Hollywood film director Tim Burton, there with cast and crew of his latest production 'Miss Peregrine's Home for Peculiar Children', bringing a touch of glamour to the proceedings. We look forward to seeing it upon release in March 2016, especially to see if we can spot one of our trams in the background!