A cleaning dashboard to
streamline all changeovers
When clean becomes the thing
that gets your business going again!
Your cleaning team deserves the best on the frontline
The Cleaning Dashboard* is a virtual cleaning calendar that helps you coordinate or assign housekeeping and maintenance tasks with your team straight from eviivo suite.
Use it to:
Share timely instructions with your team from a distance
Offer housekeeping staff an easy way to give you feedback via their mobile
You can customise your Cleaning Dashboard by adding your own columns – for example, specific cleaning codes – and pin it on the wall.
* The Cleaning Dashboard is included with Performance Manager and Owner Manager.
What does it do?
Your Cleaning Dashboard lets you see:
Which rooms/units are clean and which are not
Whether guests are in-house, checking in, or checking out
Whether or not to expect
a changeover
Which staff member or company is assigned to clean each room
Whether a room/unit needs any maintenance or repairs
Whether staff should take an inventory
Who can use it?
Users with a management role can:
Set the cleaning schedule for the day
Assign a housekeeper to a given room
Add cleaning instructions to the booking and the dashboard
Users with a housekeeping role can:
See which rooms they need to clean
See when a room must be cleaned by
Mark a room as cleaned
Add notes to provide feedback
Report maintenance or inventory issues
See why we're trusted by 26,000 properties worldwide
Book a free demo from one of our friendly experts and learn how eviivo's award-winning software can help your business.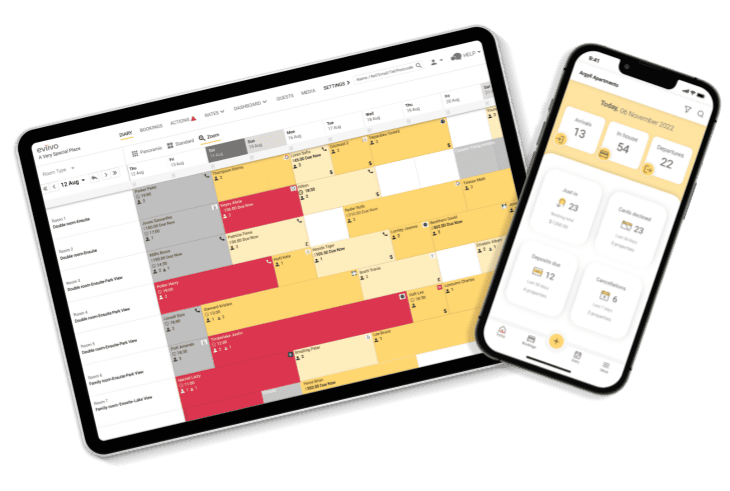 Take your guest experiences to the next level with our award-winning property management system
Want to find out more?
Sign up for a short demonstration from one of our friendly experts.
They'll get you started, with your first 30 days free!
Book Free Demo