Your cleaning team deserves
the best on the frontline
The Cleaning Dashboard* is a virtual cleaning calendar that helps you coordinate or assign housekeeping and maintenance tasks with your team straight from eviivo suite.
Use it to:
Share timely instructions with your team from a distance
Offer housekeeping staff an easy way to give you feedback via their mobile
You can customize your Cleaning Dashboard by adding your own columns – for example, specific cleaning codes – and pin it on the wall.
* The Cleaning Dashboard requires a subscription to Performance Manager, which is part of eviivo suite.
What does it do?
Your Cleaning Dashboard lets you see:
Which rooms/units are clean and which are not
Whether guests are in-house, checking in, or checking out
Whether or not to expect
a changeover
Which staff member or company is assigned to clean each room
Whether a room/unit needs any maintenance or repairs
Whether staff should take an inventory
Who can use it?
Users with a management role can:
Set the cleaning schedule for the day
Assign a housekeeper to a given room
Add cleaning instructions to the booking and the dashboard
Users with a housekeeping role can:
See which rooms they need to clean
See when a room must be cleaned by
Mark a room as cleaned
Add notes to provide feedback
Report maintenance or inventory issues
…And there is more.
With our world-class booking, guest and channel management tools, you have everything you need to advertise your enhanced safety measures across all travel sites, and drive demand and lower commissions at the same time.
Automated Cleaning Buffers
Space out bookings automatically to make room for enhanced Covid-19 cleaning protocols.
New Hygiene Amenities
eviivo has enabled the full mapping of Covid-19 amenities and services to all the OTAs who support these. Therefore you can advertise your updated hygiene measures across your website and all OTA channels in just one click.
Reopen Safely and Successfully
Reassure your guests, beat Covid-19 and drive your best late summer booking season yet! View Here.
See why we're trusted by

25,500

properties worldwide
Book a free demo from one of our friendly experts and learn how eviivo's award-winning software can help your business.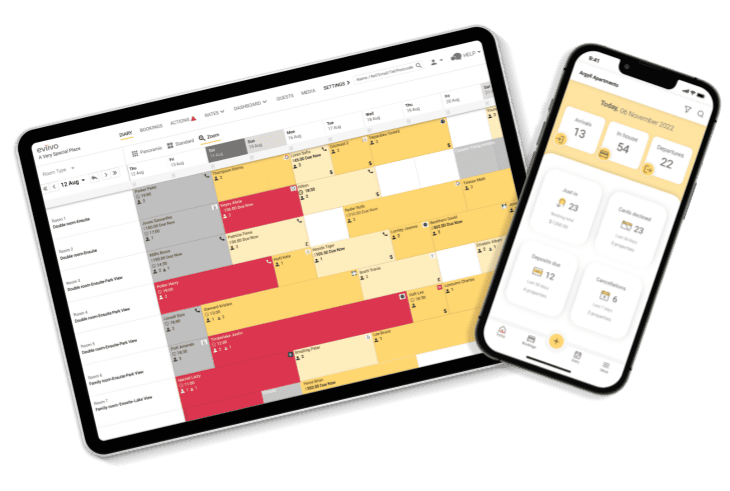 Take your guest experiences to the next level with our award-winning property management system
Want to find out more?
Sign up for a short demonstration from one of our friendly experts.
They'll get you started, with your first 30 days free!
Book Free Demo