Expedia Certified Partner
What's so special about the eviivo – Expedia connection?
Expedia's massive network of travel websites can give your accommodation a world of exposure. eviivo's Channel Manager allows you to make the most of it by providing an instant 2-way connection to Expedia. You get:
● Real-time synchronization to help eliminate overbookings
● Instant updates of prices, availability, content, photos & policies
● A simple commission model – no bookings, no costs!
● Freedom to opt in and opt out in one click
● An award-winning connection – winning Expedia's Global Innovation Award
● The ease of managing everything in one place
Get listed across Expedia and its entire affiliate network with complete control. Opt in to Expedia via eviivo Suite today.
What we synchronise with Expedia
Why connect to Expedia?
Expedia Inc. is a global company operating a large number of online travel websites, including such well-known travel brands as Hotels.com, Hotwire, Orbitz, Wotif, ebookers, Travelocity, Egencia and Trivago.
Featuring on Expedia gives hoteliers, property owners and hosts access to an international affiliate network. Expedia's booking sites are supported by extensive advertising on TV, OOH, in the press and online. Expedia also makes it easy for travelers to get to properties by offering accommodation as well as flights and car rental packages.
As such, listing on Expedia offers unmatched exposure around the world, with access to over 112 million unique visitors a month. It welcomes all types of properties: apartments, B&Bs, hotels, guesthouses, pubs and inns with rooms, hostels, villas, chalets, cottages and more.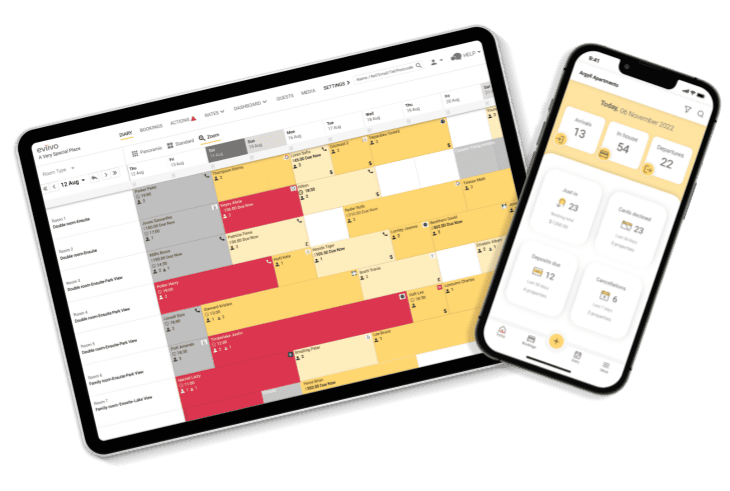 Expedia Property Management System
Find out more about
eviivo Suite's features
The all-in-one booking software that puts you in control to run things your way. See what eviivo suite has to offer:
eviivo's Channel Manager
Connecting you to all leading Online Travel Agencies
Disclaimer:  '"Expedia" is a protected trademark that belongs to Expedia Inc. The trademark is used merely to describe the channel manager connection provided by eviivo.  Any other information provided about "Expedia" is for general guidance only and was publicly available at the time it was published. eviivo makes no representations whatsoever as to the accuracy of this information over time.  We encourage you to visit our partner directly to check this information directly with "Expedia".
Want to find out more?
Sign up for a short demonstration from one of our friendly experts.
They'll get you started, with your first 30 days free!
Book Free Demo