There's no question that implementing self check-in at your vacation rental makes life easier for you and your guests. You no longer have to be physically present whenever guests arrive, and your guests get much more flexibility around their arrival times. Everybody wins!
However, for self check-in to go smoothly for each new arrival, you've got to have the right tech for the job. That's where selecting your Airbnb smart lock system becomes key.
We're going to unlock the smoothest check-in process for your vacation rental by diving into:
how Airbnb smart locks enable keyless entry;

some of the best providers and lock options on the market, and;

why it's a good idea to have an Airbnb lockbox in place, too.
What is an Airbnb smart lock?
A smart lock is a system combining hardware and software. This system lets you lock and unlock your property's entrance via a smartphone, wifi or Bluetooth.
Most Airbnb smart locks work with iOS and Android phones. They allow you to:
control access remotely from your smartphone

monitor who is approaching your property — some options also provide an interface with security companies

issue unique access codes to your guests so that they're able to access your property without you being present
Many hosts opt to connect their Airbnb smart lock system to their PMS (property management system). Although the specifics of this connection vary across smart lock providers, it's safe to say that connecting your PMS and your smart lock typically makes it easier to manage the contactless check-in process. That's because this connection brings together your booking details and automatically-generated access codes, so it's much simpler for you to manage and distribute guest access remotely for each new booking.
Airbnb Smart locks that fully integrate with eviivo Suite
Each of the smart lock providers below connects directly to eviivo Suite for a totally seamless contactless check-in process.
Nuki
Extremely popular in Europe, the Nuki Smart Lock is a retrofittable electronic door lock that can be installed on the inside of the door within a few minutes and is immediately ready for use. You can control the lock from your smartphone using the free Nuki app, and send digital access codes to your guests through Nuki's integration with eviivo Suite.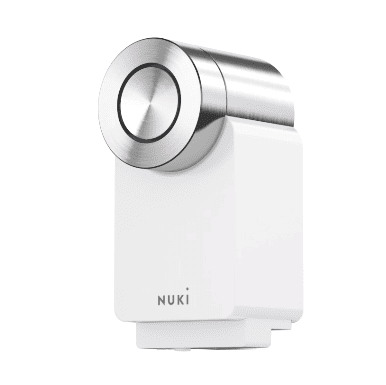 Vikey
Vikey is a European supplier of all-in-one remote check-in solutions. Their hardware options include the Vikey Smart Lock 2.0, which offers motorized locking, double locking and unlocking, and boasts an easy, reversible installation. After completing their online check-in, guests receive a "virtual key", which allows them to open the doors of your property directly from their smartphone.
The Keys
Headquartered in France, The Keys manufacture smart locks for installation into doors. Their smart locks connect to eviivo Suite via WiFi and generate a new code for each new booking. The Keys can be fully integrated with eviivo Suite, allowing you to send access codes safely and automatically to your guests through eviivo Guest Manager a few days before they arrive.
Airbnb smart locks you can access through eviivo's integrations with Operto and RemoteLock (via GuestTalk)
There are other ways to integrate your Airbnb smart lock with your PMS to enable a truly seamless self check-in process. For example, eviivo Suite connects to Operto and RemoteLock, two leading providers of smart technology solutions for property owners. These connections 'unlock' a wide range of smart lock possibilities for our users.
Properties that have an active subscription to Operto can request to integrate it with eviivo Suite. This allows the eviivo platform to automatically synchronize to Operto and update it with your booking and guest data. You can then generate unique access codes from Operto for each reservation.
eviivo Suite connects to RemoteLock via our partners at GuestTalk. Thanks to their partnership with RemoteLock, GuestTalk lets you send door codes for RemoteLock-integrated locks safely to your guest's smartphone.
Through these partner integrations, eviivo users have freedom to choose from dozens of smart locks covering the industry's leading brands.
That's a LOT of smart lock options. So we've whittled the list down to a few compatible smart locks that we recommend:
Yale Assure Lock 2®
The name 'Yale' is synonymous with trustworthy security solutions, and this sleek, compact smart lock is no exception. The Yale Assure Lock 2 is compatible with most door types, which makes for an easy installation. It features built-in Bluetooth® technology and your choice of touchscreen or keypad access, enabling you to share entry codes with your guests from eviivo Suite via your Operto or GuestTalk/RemoteLock connection.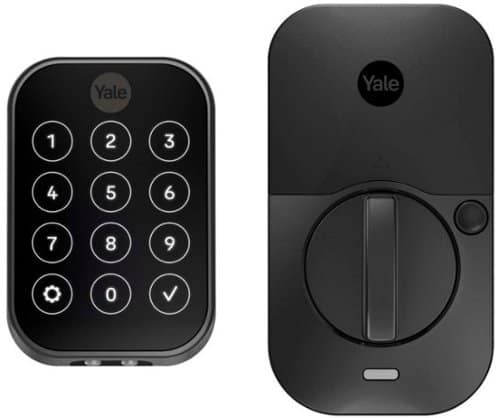 Schlage Encode™ Smart WiFi Deadbolt
Schlage is another internationally trusted brand for door locks. The Schlage Encode smart lock comes with built-in WiFi. It connects securely to your property's WiFi to give you effortless access directly from your smartphone, wherever you are.
As well as giving you the ability to control the lock remotely, the Schlage Encode also enables you to manage up to 100 distinct access codes for your guests. Both our Operto and GuestTalk/RemoteLock integrations allow you to connect Schlage smart locks to eviivo Suite, so you can seamlessly generate and distribute access codes.
August Smart Lock Pro + Connect
This award-winning smart lock comes with the August Connect Wi-Fi Bridge — a pairing that allows you to lock and unlock your door from anywhere using your smartphone. Moreover, the August Smart Lock Pro boasts an easy 5-minute installation process and is compatible with many types of single cylinder deadbolts. Use eviivo's integrations with either Operto or GuestTalk/RemoteLock to send guests unique access codes for your August smart lock.
SALTO XS4 One
SALTO Systems is a leader in the development of smart and digital keys, and its smart access solutions are an especially popular choice for multi-unit properties. The XS4 One combines proven robustness, advanced technology, and stylish design in an all-in-one smart lock solution that's easy to install on virtually any door. Connect your SALTO smart lock with eviivo Suite through the Operto integration to facilitate seamless access for your guests.
Lockboxes: Your back-up for self check-in
To keep the check-in process at your vacation rental convenient for you and your guests, we recommend first and foremost having a keyless Airbnb smart lock system.
However, you may not want to rely on just one option when granting access to a high volume of guests. It's a good idea to provide a back-up way to access your property too, just in case. This is where lockboxes enter the picture…
What is an Airbnb lockbox?
A lockbox is essentially a small safe where you can store physical door keys or access cards for your property. It's a reliably secure and convenient way to hand over keys to guests when you're not present. Having a lockbox is particularly effective for Airbnb and other vacation rental properties that accommodate 1 booking per night.
Similarly to smart locks, you enable your guests to unlock your lockbox by sending them access codes. Inputting the code on the box allows guests to open it up and retrieve the key that's stored inside.
If your guest uses your Airbnb lockbox for access, then there are a couple of things you should do to keep your property protected:
Ensure the guest returns the key at the end of their stay, either by leaving it in the lockbox or handing it over to you in person.

Change the lockbox's access code once the guest leaves. Unless you have a smart lockbox (which we'll discuss in a little more detail below), you probably need to do this manually.
What types of lockbox are available to you?
There's a surprising amount of variety in the lockbox market. The first thing you may want to consider is your preferred lock design. How do you want your guests to interact with the lockbox and input their access code? Keep accessibility in mind – will all guests at all hours be able to easily access their key? Your lockbox design options include:
Combination dial locks. These employ a spinning dial that you turn clockwise and counterclockwise to line up points at an indicator.

Wheel locks or 4-digit locks. They have a series of spinning wheels with numbers that you can line up to match the designated code.

Push button locks. These feature a series of buttons, associated with numbers or letters, that guests use to enter their code. This makes them very easy to use, especially as the numbers can be pressed in any order. (e.g., 1-2-3 could be punched in as 2-1-3.)

Smart locks. These use an app and/or a keypad to enter a code, which is typically updated remotely for each new booking.
As for placement method, there are two main types of Airbnb lockbox placements you can choose from:
Mounted is the more secure, since it offers no opportunity to use bolt cutters on the shackle. However, it does require more upfront labor and will need to be permanently affixed to your property.

Shackled, which has the loop securing a lock in place, is most commonly seen around a door handle. This makes it easy to find, since it's affixed to the door it will be used on, and it doesn't present any risk of damage to your property upon setup.
Finally, there's the lockbox technology to consider. Although we may consider lockboxes the analog alternative to smart locks, there are plenty of smart and bluetooth options out there. Let's go through a couple of them before looking at some traditional wall-mounted lockboxes as your final back-up option.
Smart and Bluetooth® lockbox options
Smart lockboxes and Bluetooth lockboxes offer useful features like companion apps and the ability to update combinations remotely, similarly to the smart locks we detailed earlier. Here are a few of the options available to you.
Igloohome Smart Keybox 3
With this smart lockbox, you can grant access from anywhere. Designed for hassle-free sharing, this Igloohome product allows you to send PIN codes to guests through a variety of communication channels including SMS, WhatsApp and Facebook Messenger. You can also set specific PIN access types.
For total control and peace of mind, Igloohome's smartphone app gives you the ability to track key activity, including the date and times the lockbox is accessed, PIN code logs, and battery status.
Master Lock® 5440EC Bluetooth Portable Lock Box
This portable lockbox allows you to use your smartphone to open and manage its lock effortlessly through the latest Bluetooth lock technology. Simply use the free Master Lock Vault Enterprise app — it's specifically designed for busy applications with many users and allows you to monitor access to the property remotely. The lockbox's integrated keypad also means there's a built-in capability to provide guests with access to the keys inside.

As for the hardware's design, the Master Lock 5440EC combines a durable wide metal body with a convenient, fully removable shackle, so you enjoy a unique mixture of security and portability.
Analog wall mount Airbnb lockbox options
Maybe you want to back up your high-tech Airbnb smart lock solution with a classic fall-back access option. If that's the case, why not install a wall mounted lockbox at your vacation rental as your Plan B? Below are a couple of the leading options on the market.
Master Lock 5423D
This best seller from Master Lock is designed for ease, convenience and accessibility. The classic push button keypad on the Master Lock 5423D will be familiar to most guests, and its large buttons make it easy to use even in low light conditions. For durability, the lockbox's simple but effective features include a wide metal body and a protective weather cover that stops it from jamming or freezing.
The Best Smart Lock and Lockbox Options For Airbnb Self Check-In 2023
Key Takeaways
Airbnb smart locks are the key to enabling seamless self check-in for guests at your Airbnb or vacation rental property
For the most convenient remote access, make sure you can integrate your smart lock with your PMS, whether directly or via a third-party technology provider like Operto or RemoteLock. This allows you to synchronize access codes for delivery straight to your guest's inbox or smartphone.
You may also wish to install a lockbox at your property to store physical entry keys. This gives you an alternative means of providing access to guests in the event that your Airbnb smart lock system is unavailable.
Smart locks and smart/Bluetooth lockboxes often function with companion apps and offer the capability to update combinations remotely for added convenience.
Consider making an analog wall mount lock box your fallback plan. That way, guests still have a smooth self check-in option if anything happens with your smart lock and/or your smart lockbox.
Always keep your property protected! If your guest does have to use your backup lockbox, make sure when they leave that 1) they have returned the physical key used for access and 2) you manually change the access code to the lockbox.
If you want to 'unlock' the smoothest check-in experience possible, then use eviivo Guest Manager to automatically send your guests smart lock access codes, your lockbox access information, or any other pre-arrival info they need.