Google VR Certified Partner
What's so special about the eviivo – Google connection for Vacation Rentals?
Google Vacation Rentals allows you to reach guests via the world's biggest search engine. eviivo's Channel Manager makes it easier to take advantage of this huge opportunity with a deeply integrated, reliable and simple connection.
No overbookings, no admin. Our connection with Google Vacation Rentals gives you:
● A deep 2-way connection, designed for vacation rentals
● Instantly updated rates, availability, policies, photos, and content
● Simple, 1-click implementation. (No PPC or SEO jargon!)
● Total control of the booking process. Guests get confirmations in your words, based on your policies and terms.
● Confidence guests get the same experience they would on your website
● Listings you can advertise under your Property Management Company branding
Don't miss the opportunity to gain great exposure and put your vacation rental or holiday letting listing 'on the map' – opt into Google via eviivo Suite today!
What we synchronise with Google for Vacation Rentals
Why connect to Google Vacation Rental?
Google is the world's largest search engine and offers a fantastic opportunity for hosts and property owners to market their short-term rental(s). Listings are advertised in prime position all year long. They are bookable on Google Vacation Rental searches and Google Maps directly, without any payable costs for unnecessary clicks.
Travellers can find unique properties on Google by applying the Vacation Rentals filter, visiting the Vacation Rentals tab, or searching for vacation rentals on Search.
Like hotels, vacation rentals appear on Google Maps and Search but with some key differences, specific to what guests and owners expect when they book a vacation rental. Examples include search filters for specific amenities, higher occupancy, and multiple rooms, plus the omission of exact property addresses (to maintain owner/property manager privacy).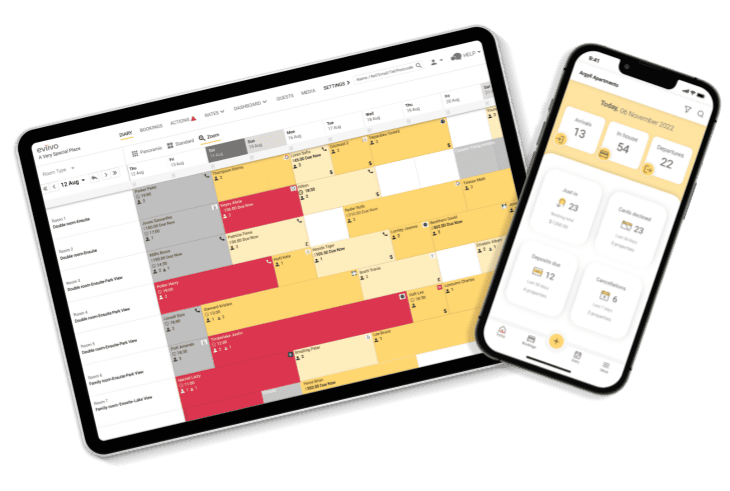 Google for Vacation Rentals Property Management System
Find out more about
eviivo suite's features
The all-in-one booking software that puts you in control to run things your way. See what eviivo suite has to offer:
eviivo's Channel Manager
Connecting you to all leading Online Travel Agencies
Want to find out more?
Sign up for a short demonstration from one of our friendly experts.
They'll get you started, with your first 30 days free!
Book Free Demo