Hotels.com Certified Partner
What's so special about the eviivo – Hotels.com connection?
Want to showcase your accommodation to travelers across the world? Hotels.com is a go-to platform. And with eviivo's Channel Manager, you get a 2-way, direct connection to Hotels.com that puts you in charge, automatically. You enjoy:
● Real-time synchronization to help eliminate overbookings
● Instantly updated rates, availability, policies, photos & content
● A simple commission model – no bookings, no costs!
● Freedom to opt in and opt out in one click
● Hours of manual work saved with automatic onboarding and updates
● The ease of managing everything in one place
Whether you own a hotel, a seaside resort or a cozy B&B, connecting to Hotels.com is a strategic move you won't regret! Opt in via eviivo Suite today.
What we sycnhronize with Hotels.com
Why connect to Hotels.com?
Hotels.com is part of the Expedia network and specializes in offering accommodation services through its network of localized websites. It is a well-advertised travel brand, connecting people all over the world, and excelling at targeting last-minute vacationers, families and business travelers.
Hotels.com runs targeted advertising campaigns and acts as a shop window to countless potential visitors. It also runs a popular loyalty program and features extensive guest reviews that help other visitors find the most suitable accommodation for a given destination, whether they're traveling for business or leisure.
Hotels.com has been a forerunner in the development of an award-winning mobile app version of their site to meet the growing demand for guests who book 'on the move'.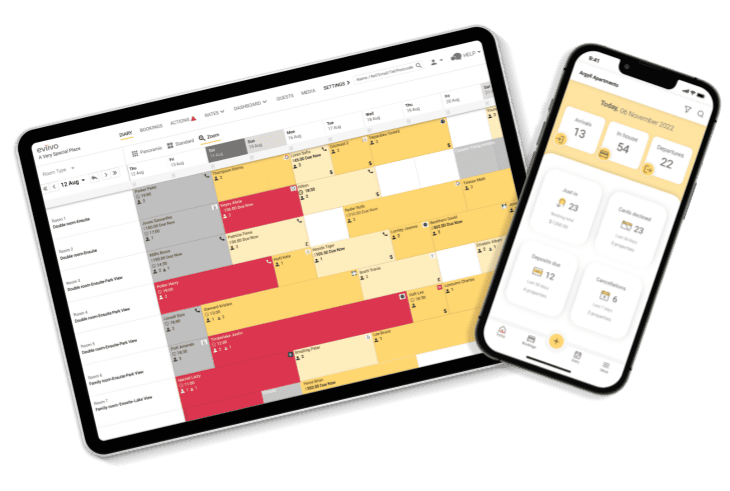 Hotels.com Property Management System
Find out more about
eviivo Suite's features
The all-in-one booking software that puts you in control to run things your way. See what eviivo suite has to offer:
eviivo's Channel Manager
Connecting you to all leading Online Travel Agencies
Disclaimer: '"Hotels.com" is a protected trademark that belongs to Expedia Inc. The trademark is used merely to describe the channel manager connection provided by eviivo. Any other information provided about "Hotels.com" is for general guidance only and was publicly available at the time it was published. eviivo makes no representations whatsoever as to the accuracy of this information over time. We encourage you to visit our partner directly to check this information with "Hotels.com".
Want to find out more?
Sign up for a short demonstration from one of our friendly experts.
They'll get you started, with your first 30 days free!
Book Free Demo