Expedia Certified Partner Connection
What's so special about the eviivo – Travelocity/Expedia API connection?
As part of the Expedia Group, Travelocity can showcase your accommodation to millions. Take charge of that partnership with eviivo's Channel Manager. Get a seamless 2-way connection to Travelocity (as well as other major Expedia brands) with the following benefits:
● Real-time booking, guest and property management
● Instantly updated prices, availability, content, photos & policies
● A simple commission model – no bookings, no costs!
● Freedom to opt in and opt out in one click
● Hours of manual work saved with automatic onboarding and updates
● The ease of managing everything in one place
Advertising with Travelocity is great for global visibility. Opt in to Travelocity via eviivo Suite today.
What we synchronize with Travelocity
Why connect to Travelocity?
Travelocity is an online travel agency created in 1995 through a joint venture between Worldview Systems Corporation and Sabre Holdings. It became part of the Expedia Group family of brands in 2015, joining the likes of HomeAway, Orbitz and trivago.
The Travelocity website operates mostly in North America and offers thousands of travel destinations to more than 12.2 million worldwide travelers per month. Renowned for its "Roaming Gnome" mascot, Travelocity has quickly established a strong brand image and a regular customer base. It focuses on providing travelers with fulfilling journeys and cherished memories.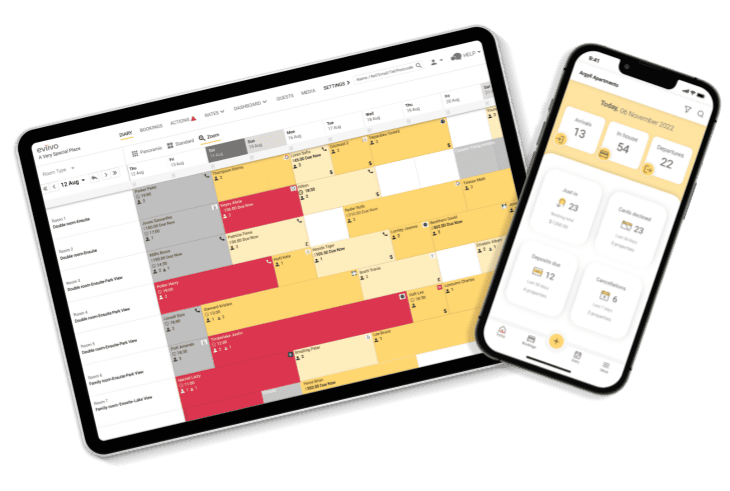 Travelocity Property Management System
Find out more about
eviivo Suite's features
The all-in-one booking software that puts you in control to run things your way. See what eviivo Suite has to offer
eviivo's Channel Manager
Connecting you to all leading Online Travel Agencies
"Travelocity" is a protected trademark that belongs to Expedia Inc. The trademark is used merely to describe the channel manager connection provided by eviivo. Any other information provided about "Travelocity" is for general guidance only and was publicly available at the time it was published. eviivo makes no representations whatsoever as to the accuracy of this information over time. We encourage you to visit our partner directly to check this information directly with "Expedia Inc".
Want to find out more?
Sign up for a short demonstration from one of our friendly experts.
They'll get you started, with your first 30 days free!
Book Free Demo