Tripadvisor Certified Partner
What's so special about the eviivo – Tripavisor connection?
Make the most of being connected to the world's largest travel platform. eviivo's Channel Manager provides a robust, 2-way connection to Tripadvisor, built on a reliable API – not just an iCal connection – that brings you the following benefits:
● Real-time synchronization to help eliminate overbookings
● Instantly updated rates, availability, photos & content
● A simple commission model – no bookings, no costs!
● Freedom to opt in and opt out in one click
● Your choice of CPC or Instant Booking placements
● The ease of managing everything in one place
Looking for a Tripadvisor Channel Manager? As a premium partner of Tripadvisor eviivo gives you the tools to truly make the best of this online travel giant. Opt in to Tripadvisor via eviivo Suite today
What we synchronize with Tripadvisor
Why connect to Tripadvisor?
Tripadvisor is the world's largest travel platform, enabling guests to plan and book the perfect trip. The travel review site and app operates in 49 markets worldwide and helps 463 million travelers each month. Tripadvisor offers peer-to-peer advice and a wide variety of booking tools guests can use to plan their trips, which check hundreds of websites seamlessly to find great prices.
Tripadvisor services the needs of a huge travel community, collating over a billion reviews and opinions for millions of accommodation providers, restaurants and attractions. Their Instant Booking solution enables guests to book stays directly with properties via the "Book with Tripadvisor" button on the property's Tripadvisor profile.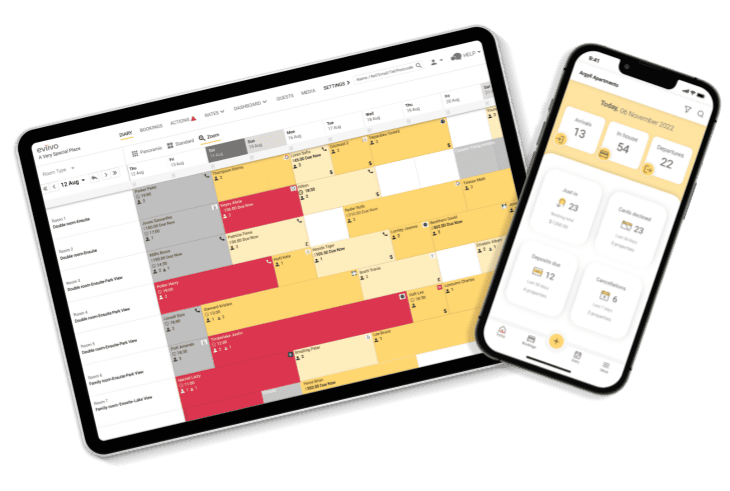 Tripadvisor Property Management System
Find out more about
eviivo Suite's features
The all-in-one booking software that puts you in control to run things your way. See what eviivo suite has to offer:
eviivo's Channel Manager
Connecting you to all leading Online Travel Agencies
Disclaimer: '"Tripadvisor" is a protected trademark that belongs to Tripadvisor, Inc.. The trademark is used merely to describe the channel manager connection provided by eviivo. Any other information provided about "Tripadvisor" is for general guidance only and was publicly available at the time it was published. eviivo makes no representations whatsoever as to the accuracy of this information over time. We encourage you to visit our partner directly to check this information with "Tripadvisor".
Want to find out more?
Sign up for a short demonstration from one of our friendly experts.
They'll get you started, with your first 30 days free!
Book Free Demo